Bruges (West-Vlaanderen, Belgium)
From GAMEO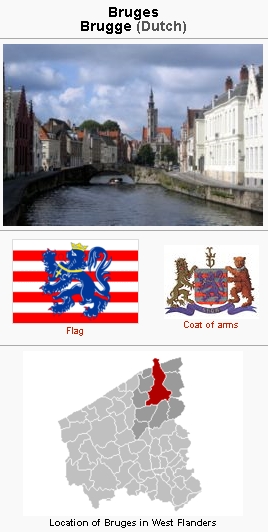 Bruges (Brugge), capital of West Flanders, Belgium (1950 pop. 54,000; 2006 pop. 117,000). There were Anabaptists here probably as early as 1530, who fled to this place after the passing of the Edict of Speyer in 1529. At any rate there was a very active congregation here in 1534, which was untouched by the fanaticism of Münster. During the 16th century there was a large congregation in this city. The notorious heretic hunter, Brother Cornelis Adriaensz, speaks of no less than 700 Anabaptists living there. Leenaert Bouwens was, however, not active here. A very large number of martyrs came from this city. Van Braght names at least 24. The actual figure was 47, two of whom died in prison, two were buried alive, and 43 died at the stake. For 11 who gave their lives on 10 December 1561 a hymn was written, beginning "Genade ende vrede moet god vreezende zijn" (Wackernagel, Lieder).
Seven martyrs were executed in 1538; one in 1552, seven in 1558, twelve in 1561, eleven in 1568, two in 1569, five in 1570, and two in 1573. The fact that on one occasion 12 and on another 11 were burned at one time suggests that the church was a large one; for otherwise it would not have been possible to capture so many at once. Special mention should be made of Jacob de Swarte (executed at Bruges 15 August 1558), because his entire family was arrested in 1563 in Lille, where his father Jan was deacon; he died at the stake with his wife and four sons. The most important of the martyrs of Bruges were the two preachers and elders, Jacob de Rore or Keersgieter (chandler) and Herman van Vlekwijk, who were burned to death on 18 July 1569. Their cross-examination by Cornelis Adriaensz, and their letters, are given at length in the Martyrs' Mirror.
Nothing further is known concerning the Bruges congregation. With the death of the last martyrs, Mattheus Kuese and Adriaen van der Zwalme (7 August 1573), it was apparently extinct, though in 1636 there were still some Mennonites in or near Bruges. In this year Pieter Hoop and Maerten Languut, Mennonites from the Dutch province of Zeeland visiting the brethren in Bruges, were put in prison here for more than half a year. About the same time other Mennonites living here, as Cornelis Dyserinck, left the city and moved to the Netherlands. After that time there were no Mennonites here.
Bibliography
Doopsgezinde Bijdragen (1876): 84; (1877): 7.
Hege, Christian and Christian Neff. Mennonitisches Lexikon, 4 vols. Frankfurt & Weierhof: Hege; Karlsruhe; Schneider, 1913-1967: v. I, 285.
Janssen, Hendrik Q. De Kerkhervorming in Brugge. Arnhem, 1868.
Verheyden, A. L. E. Het Brugsche Martyrologium (12 October 1527-7 Augustus 1573). Brussels, [1944]. Available in full electronic text at: http://www.theologienet.nl/documenten/Verheyden%20Brugse%20Martyrologium.pdf.
Wackernagel, Philipp. Lieder der niederlandischen Reformierten aus der Zeit der Verfolgung im 16. Jahrhundert. Frankfurt: Hender & Zimmer, 1867. Reprinted Nieuwkoop: B. de Graaf, 1965: 130.
Maps
Map:Bruges (West-Vlaanderen, Belgium)
Author(s)
Karel Vos
Nanne van der Zijpp
Date Published
1953
Cite This Article
MLA style
Vos, Karel and Nanne van der Zijpp. "Bruges (West-Vlaanderen, Belgium)." Global Anabaptist Mennonite Encyclopedia Online. 1953. Web. 19 Oct 2018. http://gameo.org/index.php?title=Bruges_(West-Vlaanderen,_Belgium)&oldid=148774.
APA style
Vos, Karel and Nanne van der Zijpp. (1953). Bruges (West-Vlaanderen, Belgium). Global Anabaptist Mennonite Encyclopedia Online. Retrieved 19 October 2018, from http://gameo.org/index.php?title=Bruges_(West-Vlaanderen,_Belgium)&oldid=148774.
---

Adapted by permission of Herald Press, Harrisonburg, Virginia, from Mennonite Encyclopedia, Vol. 1, pp. 449-450. All rights reserved.

©1996-2018 by the Global Anabaptist Mennonite Encyclopedia Online. All rights reserved.