Oklahoma (USA)
From GAMEO
General Introduction
Oklahoma, located in the South Central region of the United States of America, is bounded on the north by Colorado and Kansas, on the east by Missouri and Arkansas, on the south by Texas, and on the west by Texas and New Mexico. Oklahoma has an area of 69,898 square miles (181,195 km²) and in 2007 had an estimated population of 3,617,316. In 2005 the ancestral makeup of Oklahoma was reported to be as follows: 14.5% German, 13.1% American, 11.8% Irish, 9.6% English, 8.1% African American, and 11.4% Native American, including 7.9% Cherokee. In terms of religious affiliation, the following percentages were reported for the year 2000: Evangelical Protestant – 53%; Mainline Protestant – 16%; Catholic – 13%; Other – 6%; Unaffiliated – 12%. The Southern Baptist Convention and the United Methodist Church are the largest Christian denominations.
1959 Article: Introduction
Originally Oklahoma formed a part of the Louisiana Purchase from France in 1803 and eventually existed as an unorganized Indian Territory, reserved for Native Americans exclusively. A part was opened to general settlement in 1889 and the western part organized as Oklahoma Territory in 1890. The rest was gradually opened to settlement, and then by the Enabling Act of 1906 the Indian Territory and the Oklahoma Territory were merged and admitted into the Union as the 46th state on 16 November 1907.
Mennonite settlement in Oklahoma began as soon as the Indian Territory was opened for white settlement on 22 April 1892. The Mennonites who came to this territory were primarily those who had settled in the Great Plains of Kansas and Nebraska two decades before the opening of Oklahoma. Many of them did not have enough land for their children, or were lured by the prospect of vast unoccupied space in this area. However, the first Mennonites who came to Oklahoma did not do so for economic reasons. The General Conference Mennonite Church, which had been organized as a conference in 1860, and had been looking for an appropriate mission field, was attracted to the Indian Territory (Oklahoma) and opened a mission there.
Missions
In 1875 S. S. Haury was ordained as a missionary and the following year he was sent to the Indian Territory to look for a field. He became acquainted with the Cheyenne and Arapaho Indians. Through the help of the Indian agent Miles, a Quaker stationed at Darlington, the General Conference Mennonite Church began its first mission work among the Arapaho Indians in 1880. A frame mission school building was established at Darlington, northwest of the present city of El Reno, to accommodate twenty-five Indian children and the missionary family. S. S. Haury was the first Mennonite missionary to do work among the Indians of Oklahoma and possibly also the first Mennonite to enter the Indian Territory. Later the mission work was extended to Cantonment (now Canton) and the Cheyennes. Other stations were added.
The Mennonite Brethren began the Post Oak mission a few miles northeast of the present city of Indiahoma in 1894, when Henry Kohfeld started his work among the Comanche Indians. A. J. Becker, who came here in 1901, spent his whole life among the Comanches.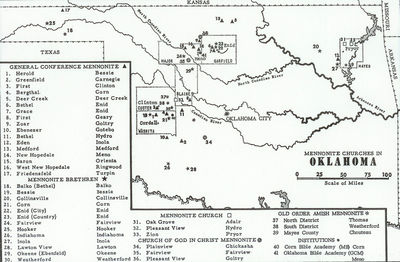 The first actual Mennonite settlement to be established in Oklahoma resulted from the establishment of the Darlington Mission. In 1891 some people who had settled between the present towns of Okarche and El Reno, Canadian County, established the Mennoville Mennonite Church, the first Mennonite church in Oklahoma. On 19 April 1892, three million acres of land in the Cheyenne and Arapaho territories were opened to white settlement. Among the earliest homesteaders in the western part of the Oklahoma territory were numerous Mennonites, primarily from Kansas and Nebraska. Their settlements extended into the counties later called Blaine, Custer, and Washita. One group homesteaded near the present site of Geary, another in the vicinity of Watonga, and a third in the vicinity of Okeene. In 1893 the Cooper Mennonite Brethren Church was organized. In 1902 this settlement was disbanded. The first Old Order Amish settled in the Thomas community in 1893.
Through a study it has been estimated that some 100,000 people joined in the race to establish claims in the Oklahoma Territory; many Mennonites were among them, coming from Kansas, Iowa, and Missouri. They were the founders of the communities of Meno, Medford, Deer Creek, Orienta, Fairview, Lahoma, Kremlin, North Enid, Enid, etc. The first Mennonite (General Conference Mennonite) church founded in 1894 as a result of this "run" was located in the Fairview community. The North and South Hoffnungsfeld Mennonite Brethren congregations were established here.
Mennonite (GCM) families from McPherson and Marion counties, KS organized the present Meno community on 13 June 1895. They established the New Hopedale Mennonite Church and the Ringwood West New Hopedale Mennonite Church. The village of Meno (Menno) was founded in 1902. The Mennonite Brethren Church of Medford was organized on 4 February 1897. John F. Harms was the minister there and the editor and printer of the Zionsbote. The town of Deer Creek was founded in 1898 adjacent to a Mennonite settlement of persons primarily of South German background who organized a congregation in 1899.
Mennonites of the Mennonite Church group settled in Alfalfa County and organized the Milan Valley Church. Other settlements were established near Manchester and Newkirk. A few families of the Church of God in Christ, Mennonite, settled near Fairview. The Church of God (Apostolische Brudergemeinde), followers of Herman Peters, established a small group (see Fairview Church of God). Mennonites also settled in Kiowa, Beaver, Texas, and Caddo counties in 1901-1907. Two General Conference congregations and one Mennonite Brethren in the Gotebo vicinity were established shortly after 1901. In the Oklahoma Panhandle, Mennonites settled in Beaver County near Turpin, and in Texas County near Balko and Hooker.
Pioneer life on the Oklahoma plains was difficult, intensified by poverty and drought conditions. Pioneers lived in sod houses and dugouts. Many found lack of water a serious problem. After 1897, when bumper crops were harvested, conditions improved in many places.
By the close of the Territorial period in 1907 there were, according to Marvin Kroeker, 37 Mennonite congregations in Oklahoma, sixteen of which belonged to the General Conference Mennonite Church, twelve to the Mennonite Brethren, three to the Mennonite Church (MC), two to the Old Order Amish, one to the Amish Mennonites, one to the Krimmer Mennonite Brethren, and one to the Church of God in Christ, Mennonites.
Congregations
In 1911, Oklahoma had 33 Mennonite congregations with a membership of 1,944 in the following congregations:
Mennonite Churches in Oklahoma in 1911
Name of Church
County
Location
Members
American Indian Mission (GCM)
Blaine
4 m. NW of Canton
74
Bergthal (GCM)
Washita
11 m. NW of Bessie
51
Bethania (GCM)
Woodward
24 m. S of Cold Water
31
Bethel (MB)
Custer
5 m. SW of Weatherford
65
Bethel (GCM)
Caddo
8 m. W of Hinton
23
Caddo (GCM)
Caddo
8 m. W of Hinton
20
Cheyenne Mission (GCM)
Custer
6'/2 m. E of Hammon
12
Deer Creek (GCM)
Grant
Deer Creek
42
Ebenezer (GCM)
Kiowa
4 m. NE of Gotebo
86
Friedensau (GCM)
Noble
6 m. SE of Perry
23
Friedensthal (GCM)
Kiowa
6 m. SW of Gotebo
74
Geary (GCM)
Blaine
Geary
60
German Springs (OOA)
Alfalfa
Manchester
36
German Springs (MC)
Alfalfa
6 m. SE of Waldron
40
Guymon (OOA)
Texas
7 m. SE of Guymon
13
Gotebo (MB)
Kiowa
Gotebo
65
Herold (GCM)
Washita
5 m. SE of Bessie
125
Medford (GCM)
Grant
2 m. E of Medford
80
Milan Valley (MC)
Alfalfa
3 m. SE of Jet
33
Newkirk (MC)
Kay
5 m. SW of Newkirk
15
Neuhoffnungsthal (GCM)
Woods
½ m. N of Meno
175
Pleasant View (OOA)
Blaine
9 m. SW of Hydro
65
Salem (GCM)
Washita
5 m. NE of Cordell
20
Saron (MB)
Texas
11 m. SE of Hooker
65
Saron (GCM)
Woods
1 m. SW of Orienta
35
School House (OOA)
Grant
Medford
13
Sichar (GCM)
Washita
6 m. NE of Cordell
30
Springfield (GCM)
Caddo
17 m. S of Hydro
54
Thomas (OOA)
Custer
2 m. from Thomas
100
Washita (MB)
Washita
14 m. SW of Weatherford
350
Weatherford (MB)
Washita
Weatherford
Zemamovo (GCM)
Noble
5 m. SE of Canton
52
Zion (GCM)
Blaine
1 m. S of Lucien
17
(Taken from H. P. Krehbiel, Mennonite Churches in North America, published in 1911.)
The following is a list of congregations derived from the official conference reports of the various Mennonite groups of Oklahoma after World War II. The total number of recorded congregations is 40 and the total membership 4,985. The United Missionary Church congregations are not listed in these tables.
Mennonite Churches in Oklahoma After World War II
1. General Conference Mennonite in 1956, 17 congregations with 1,902 members:
Herold (Bessie) 231
Greenfield (Carnegie) 88
Deer Creek 124
Bethel (Enid) 25
Grace (Enid) 119
First of Geary (Geary) 64
Zoar (Goltry) 150
Ebenezer (Gotebo) 52
Eden (Inola) 147
Medford (Medford) 98
New Hopedale (Meno) 308
Saron (Orienta) 128
West New Hopedale (Ringwood) 67
2. Mennonite Brethren in 1954, 13 congregations with 2,260 members:
Balko 131
Bessie 172
Collinsville 72
Corn 626
Enid City 189
Enid Country 203
Fairview 411
Hooker 116
Inola 15
Okeene 89
Weatherford (Indiahoma) 25
Lawton View (Mission) 47
Indiahoma 184
3. Church of God in Christ, Mennonite, in 1955, three congregations with 406 members:
Plainview (Chickasha) 125
Fairview (Fairview) 235
Pleasantview (Goltry) 46
4. Mennonite Church (MC) in 1956, three congregations with 257 members:
Zion (Pryor) 108
Pleasant View (Hydro) 130
Oak Grove (Adair) 21
5. Old Order Amish in 1956, four congregations with 160 members:
South District (Weatherford) 42
North District (Thomas) 66
Choteau District (Choteau) 52
Mazie District (Mazie, no figure given).
Since World War I
The time preceding and following World War I was marked by definite economic progress for the Mennonites of Oklahoma. The problems and difficulties of pioneer conditions were overcome. During the war some Mennonites suffered because of the general anti-German feeling. Some towns and businesses posted signs, "Use American language only."
In their spiritual and educational efforts the Mennonites of Oklahoma were aided by their mother congregations of Kansas and other states. The Western Conference (GCM) helped to found the Oklahoma Convention which took care of the specific needs and problems of the Oklahoma congregations, although the latter were members of the Western District Conference. The Mennonite Brethren congregations belonged to the Southern District Mennonite Brethren Conference. The Mennonite Church congregations belonged to the South Central Conference.
The Mennonite Brethren of Oklahoma established the Corn Bible Academy in 1902. The General Conference Mennonites established the Gotebo Preparatory School in 1910, and the Oklahoma Bible Academy in 1911, which still functioned in the 1950s. An evangelistic mission-minded fervor was found in most of the congregations. The Mennonites of Oklahoma supported the mission work among the Indians of the state. (See Arapaho Mennonite Mission, Cheyenne Indians, Indiahoma.)
The Mennonite population of Oklahoma was still predominantly rural, although the number of those who sought employment in the city and established businesses constantly increased. Some of the towns in and around which Mennonites were located were: Meno, Corn, Enid, Weatherford, Deer Creek, Orienta, Geary, Gotebo, Kremlin, Medford, and Fairview. Only a few, like Meno and Corn, were predominantly Mennonite. During the depression after World War I many Mennonites joined other inhabitants of Oklahoma in their search for better living conditions in California. Numerous Mennonite families established new homes in Los Angeles, Bakersfield, Shafter, Fresno, Reedley, etc.
Since the Mennonite baptized church membership was some 5,000, it can be assumed that the total Mennonite population including children in 1957 was over 10,000. In the religious and cultural life the Mennonites of Oklahoma in general followed the pattern of the older Mennonite settlements in surrounding states in gradual adjustment to the environment. In most cases English was the primary spoken language, although Low German dialects was still used in some homes. In their worship services English was used almost exclusively, with the exception of the Amish. Although a distinctive ethnic culture in some of the groups could still be traced, many of these characteristics were more assimilated to the general culture than was the case in the settlements of other states from which they came. Mennonites coming originally from Poland, Molotschna in Russia, Prussia, South Germany, Pennsylvania, and other states found a new home in a territory that became a state in 1907. -- Cornelius Krahn
1988 Update
In 1988 there were 42 Mennonite congregations in Oklahoma. They were affiliated with six conferences as follows: The South Central Conference (MC), 4 congregations, 353 members; Western District Conference (GCM), 17 congregations, 1,517 members; Beachy Amish Mennonite Fellowship, 1 congregation, 42 members; Church of God in Christ Mennonite (Holdeman), 4 congregations; Mennonite Brethren, 15 congregations; Fellowship of Evangelical Bible Churches (formerly Evangelical Mennonite Brethren), 1 congregation. The Brethren in Christ had 3 congregations with 206 members (1986). The Old Order Amish had two settlements with three congregations (1985). Clarita (Coal Co.) with one congregation was founded in 1978. The older settlement (Chouteau Mayes County) was started in 1910. Three other settlements existing in 1956 (Weatherford, Thomas, and Maize) had disbanded by 1985.
There were two retirement homes: Fairview Fellowship Homes (100-bed intermediate care and 20 retirement apartments) at Fairview, and Maple Lawn Manor (60-bed intensive care facility) at Hydro. The Oklahoma Convention, a subgroup of the Western District Conference (GCM), appointed two members to the Oklahoma Bible Academy Board. -- Reynold Sawatzky
2009 Update
In 2000 the following Anabaptist / Mennonite groups were active in Oklahoma:
| Denomination | Congregations | Adherents |
| --- | --- | --- |
| Beachy Amish Mennonite Churches | 1 | 56 |
| Brethren In Christ Church | 3 | 261 |
| Church of God in Christ, Mennonite |  4 |  551 |
| Church of the Brethren | 6 | 498 |
| Conservative Mennonite Conference | 1 | 228 |
| Mennonite Brethren Churches, U.S. Conference of | 13 | 3,051 |
| Mennonite Church USA | 16 | 1,689 |
| Mennonite; Other Groups | 5 | 247 |
| Old Order Amish Church | 5 | 346 |
| Total | 50 | 6,376 |
Bibliography
ARDA: The Association of Religion Data Archives. "State Membership Report - Oklahoma: Denominational Groups, 2000." Web. 28 February 2009. http://www.thearda.com/mapsReports/reports/state/40_2000.asp.
Dalke, Diedrich L. "Oklahoma Mennonite Pioneers at Enid." Mennonite Life 11 (October 1956).
Dalke, Herbert M. "Seventy-Five Years of Missions in Oklahoma." Mennonite Life 10 (July 1955).
Grunau, P. C. "North Enid Mennonite Brethren Church." Mennonite Life 9 (October 1954).
Krehbiel, Christian. "Beginnings of Missions in Oklahoma." Mennonite Life 10 (July 1955).
Kroeker, Marvin E. "The Mennonites in the Oklahoma Runs." Mennonite Life 10 (July 1955).
Kroeker, Marvin E. "The Mennonites of Oklahoma to 1907." M.A. thesis, University of Oklahoma, 1954.
Wikipedia. "Oklahoma." Web. 28 February 2009. http://en.wikipedia.org/wiki/Oklahoma.
Author(s)
Cornelius Krahn
Reynold Sawatzky
Date Published
February 2009
Cite This Article
MLA style
Krahn, Cornelius and Reynold Sawatzky. "Oklahoma (USA)." Global Anabaptist Mennonite Encyclopedia Online. February 2009. Web. 16 Nov 2018. http://gameo.org/index.php?title=Oklahoma_(USA)&oldid=115611.
APA style
Krahn, Cornelius and Reynold Sawatzky. (February 2009). Oklahoma (USA). Global Anabaptist Mennonite Encyclopedia Online. Retrieved 16 November 2018, from http://gameo.org/index.php?title=Oklahoma_(USA)&oldid=115611.
---

Adapted by permission of Herald Press, Harrisonburg, Virginia, from Mennonite Encyclopedia, Vol. 4, pp. 33-36; v. 5, pp. 650-651. All rights reserved.

©1996-2018 by the Global Anabaptist Mennonite Encyclopedia Online. All rights reserved.